Thursday, June 18, 2009
The Waiting Game
only a day away...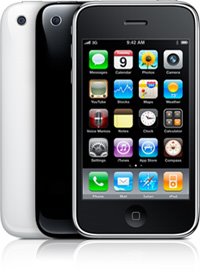 Tomorrow (Friday, June 19, 2009), my patience will finally pay off.
The first iPhone was released on June 29, 2007. A little over a year later, on July 11, 2008, Apple released the iPhone 3G along with the ability to run iPhone OS native Applications (Apps) purchased from the App Store via iTunes. Then again, Apple updated the hardware and announced the iPhone 3G S on June 8, 2009, with an unprecedented release date of June 19, 2009.
I've been with AT&T since January of 2000. Which means, I was there when the company switched from BellSouth Mobile to Cingular; when Cingular bought out AT&T wireless; and when AT&T reacquired its cellular services by taking over Cingular. I've had 2 different Nokia phones and 3 different Motorola phones. All of which have served me well. The last one, my RAZR being my pocket companion throughout my desire for the iPhone.
When my 2 year contract was up, I started getting wind that Apple would soon release new hardware. So I waited.
My patience was rewarded on June 8, 2009, during the Keynote presentation at the WWDC 2009 in San Francisco, when Apple announced the iPhone 3G S. I ordered my phone on Apple's website that night, and it has been a torturous two weeks.
Tomorrow, Fed Ex will deliver my new iPhone to my apartment. And my patience and loyalty will not have been in vain.
Labels: geekery
posted by: Scott »
11:59 AM
|
0 comments
Monday, March 23, 2009
The New Jersey Chronicles: Part III
The Return! (dun, dun, duuuuuuun)
Originally, my flight was supposed to be leaving back out of Newark Airport on Wednesday evening. Well, since we kind of lost the first day to "travel funk" and none of us were particularly productive, Matt asked us if we'd mind staying one more night, so that we had ALL of Wednesday to work. We all agreed and Matt set to changing our flight plans. The only thing they had available the next day out was at 8:00am. Oh, and the four of us minus Tanny were flying out of Laguardia.
Tanny had his own problems. In the end, he had to take a train from Newark to Philly to catch his flight out (the connecting flight was in Newark).
So we all worked on Wednesday, and the plan was as follows:
- at 2am, we'd stop working. Tim would drive Tanny to Newark in the car I rented from there, drop the car off and catch some "zzz"s. Matt stayed to finish up some of his projects. Robert and I went back to the hotel to pack and catch an hour and a half of sleep.

- at 5am, Matt would pick Robert and I up at the hotel. Then we'd drive to the Newark Aiport to pick up Tim, who'd been hopefully catching some sleep on some seats.

- once we picked Tim up, the four of us drove to LaGuardia in the second rental car to drop it off and catch our flight out.
The plan worked pretty well, with the only hickup being we almost didn't allow enough time to drive through Manhattan. :(
We caught our flight from LGA to ORD (NY to Chicago) and Matt had actually upgraded us all to window seats so we could catch some sleep. The beautiful thing about my flight from NY to Chicago was that I had a 3 seat row ALL TO MYSELF! It was beautiful.
We landed in Chicago, looked to the big board for our flights, and luckily, mine out was in the same concourse! I unfortunately was confused by the time-zone difference for a moment and thought my plane was already boarding. So I rushed down to the opposite end of the concourse and saw that they weren't boarding for another hour. So the flight left at LOCAL time... not what-ever-time-Scott's-watch-is-set-to.
The flight from ORD to CMH (Chicago to Columbus) was another where I had the row all to myself. Which meant I had rows all to myself the whole round trip. (my two flights into Newark were smaller planes with one side only having one seat in the row)
Next... conclusions...
Saturday, March 21, 2009
The New Jersey Chronicles - part II
Getting there...
I've traveled a decent amount, I'd say, mostly by car, but occasionally by airplane. CSG was flying me out of Port Columbus International Airport with a final destination of Newark, NJ, where I was to meet up with another guy (Tanny), get a car, and head to Rockaway, NJ.
Airport:
CMH
[Port Columbus International]
First of all I woke up at 3am in order to make it to the airport by 4:30am for my 6am flight out of Columbus. Everything went smoothly, even though TSA searched my backpack since I was carrying on tools (all of which were smaller than the 7" length limit as stated on the TSA website), they were concerned about my wrench, pulled it out, and decided I wasn't a threat, returned it to the bag, and sent me on my tired little way.
The flight out of CMH was headed to Dulles (Washington D.C.). It was a short flight, very smooth.
Airport:
IAD
[Washington Dulles International]
We landed, and I look at the big board to find out what gate to catch my connecting flight to Newark. Next to my flight number and destination (in big yellow letters) it says, "CANCELLED".
Crap.
I go to the customer service kiosk, pick up the phone and work on getting a flight to Newark. The (nice) lady on the other end tells me that there's not another flight to Newark until the next day. I told her that wasn't going to work - I had to be there TODAY. Eventually (somehow) she found a flight for me leaving Dulles at 12:30pm. Originally I was supposed to be in Newark around 9-9:30am. With the new flight, I wouldn't be getting in until 2:00pm.
A flurry of phone calls were made. Three of the guys were flying into Laguardia, and Tanny and I were flying into Newark. Tanny was already at Newark, he was waiting there for when I landed so we could get the car and head to the church (30 minutes away). In the end, the solution was the guys landing in LaGuardia would swing by and get Tanny. I would grab the car when I landed and head to the church. Cool.
I grabbed my flight out of Dulles with no further incident.
Airport:
EWR
[Newark International]
Upon arrival in Newark, I grabbed my checked suitcase (which miraculously made it to Newark), and headed for the tram that would take me to the rental car place. When I arrived at the rental counter, something had gone wrong with the whole switching the reservation into my name deal, and in the end, I ended up putting the car on a credit card.
The neat thing about the place where we got the car from is when I showed the attendant my reservation, he pointed at an aisle and said, "Choose a car from this aisle."
I drove a 2009 Chevy HHR around NJ for four days. Pretty sweet.
Next... The Return Trip and conclusions.
Friday, March 20, 2009
The New Jersey Chronicles
business, no pleasure
Went to New Jersey with Church Solutions Group to work on an install for Christ Church in Rockaway, NJ. Never heard of it? Don't worry, people i know from NJ hadn't heard of it, either.
My portion of the gig was to work on the lighting system for the church. There were some ups and downs about this system.
The ups - I learned the basics of working with a new lighting console, the ETC ION. The really neat thing about it is it has touch-screen functionality. I love learning new gear and figuring out how things work, so this was really the fun part for me.
The downs - the church was going for a "broadcast" feel for their lights. They planned on broadcasting their service to a satellite location. To them, this meant all the lights needed to be white light. BORING. In addition to that, the ceilings were low which created kind of a "deer-in-the-headlights" lighting angle to the people onstage. The Senior Pastor complained about this, and so MUCH though and work went into figuring out how to keep that from happening while still getting plenty of light on the stage.
It was pretty fun. Mostly because two of the other guys who were working on the install were people from my church in Lexington who I hadn't worked with in about a year. It kind of felt like a bit of a reunion.
So that's just what was going on when I got there. I had a whole mess of problems GETTING to NJ in the first place... more on that later.
Thursday, January 22, 2009
January (so far)
playing catch up.. ketchup... catsup?
New Year's EveLexington, KY
I drove down to Lexington to visit some of the old gang down there. Ashlee was having a party and I was pretty excited to see some familiar and friendly faces. Among the many highlights of the night was talking to
William and Sam
via
Skype
who (at the time) were in New Zealand for part of their year of traveling around the world. The party was featured on one of their
podcast videos
, and I had a little bit of a post traumatic balloon flash-back around the time the ball dropped. I crashed on a friends couch that night in Richmond, had a lovely breakfast, and then headed on to...
New Year's Day - Jan 5Richmond, KY
...Dustin and Katie's. My main reason for heading south. I had just came down an extra day early for the New Year's Eve Party. I was spending a few days with Dustin, Katie, and their (at the time) four month old baby, Xander. Dustin was turning old... i mean 30, and he was having a big get-together on Saturday. I got to see plenty of friends, some I hadn't seen in a couple of years. One night we went over to Katie's brother's house, where he has a "man cave" and played a few games of Halo 3. On Monday morning, I drove down to...
Jan 5 - 8Nashville, TN
...see another couple of good friends of mine, Ben and Rebekah. The following things usually happens when Ben and I get together: go to a coffee shop; talk geek; eat sushi; talk geek, etc. In between the geekery and food we have some entertaining times. We went mini-bowling. I'll have to describe this later or something... in essence - shorter lanes, smaller ball, smaller pins, no bowling shoes. Unfortunately my time drew to a close with them, and my trip started taking me back north via...
Jan 8 - 11Louisville, KY
...Kelly and Jamie's. I was able to spend a few days with them and their daughter Malorie. Bub (Kelly) was able to "meet" my girlfriend via skype. It was a very nice relaxing time with them (as always)... and they always feed me really well. The highlight of the menu was a wonderfully grilled Filet, baked potato, and grilled red pepper, and to drink.. a nice cold beer. Feeling like I had been living out of a suitcase for nearly two weeks, which I had, I decided it was time to head back...
Jan 11 - 16Columbus, OH
...home. Or at least where home is for the time-being. We got a lot of snow this week. I was able to go climbing a couple times at the
indoor climbing gym
that I joined near the end of December. Then, on Friday, I packed up and headed out to...
Jan 16 - 19St. Louis, MO
...visit my girlfriend, Kirsten! It had been since the middle of December that we had seen each other, and decided it was time for another good face-to-face. The first night I'm there is usually low-key since it's a 7 hour drive to St. Louis from Columbus. We ate at an Irish Pub, watched a movie, and called it a night. On Saturday, I "dragged" Kirsten out to a local rock climbing gym in St. Louis, that I had wanted to check out. We took their "first timer" class that most gyms require you to take, and then climbed for a good solid few hours after the class. Of course, with a full day of climbing, one tends to crash pretty hard at the end of the day. Sunday, Kirsten had to do some work for class, and it was pretty low-key again. Monday, we made another trip to the gym to use the $10 off coupons we got for taking the class. *grin*
Of course, Tuesday morning came WAY too early, meaning Kirsten had class, and I had to drive the 7 hour trip back to Columbus.
Jan 19 - presentColumbus, OH
So, now, I'm pretty much doing a lot of rock climbing at Vertical Adventures, eating, sleeping, working on some portfolio stuff, and playing some video games here and there.
It's nice to be home... but on the down side... none of my friends are here.
Labels: fun, geekery, holiday, life, news, random
Thursday, November 13, 2008
John Williams is the man
this guy comes in a close second...
Labels: fun, geekery, random, video
Wednesday, August 27, 2008
What's in a Name?
"Let's do, Chuck! Chuck, chuck, bo buck...
After I got home from work this evening, I decided I didn't want to make anything for dinner, and that I would go out and grab something to bring it back. My choice for this evening ended up being an obsession I've had since about a month ago.
Imo's Pizza
makes this amazing and delicious Meatball Sandwich, and if you ask for it on Garlic Cheese bread... wow!
But this story isn't about a sandwich.
I called ahead to Imo's and went in to pick up my sandwich. I handed the woman behind the counter my debit card, and she inquired, "I've always been curious about this bank. Why is it called Fifth Third?"
I replied, saying that I had often wondered the same thing. We had a laugh about it, the transaction was complete, and I took my sandwich home, and ate every delicious bite.
After dinner, the conversation came back to mind, and so I did a quick search on the interwebs, and this is what I found:
Abbreviated from the
Wikipedia Article
Fifth Third's unusual name is the result of the June 1, 1908 merger of two banks, The Fifth National Bank and The Third National Bank, to become The Fifth Third National Bank of Cincinnati. Because the merger took place during a period when prohibitionist ideas were gaining popularity, it was believed that "Fifth Third" was better than "Third Fifth," which could be construed as a reference to three "fifths" of alcohol. The name went through several changes over the years, until on March 24, 1969, the name was changed to Fifth Third Bank.
I'm pretty excited by this (on the inside... I'm not doing cartwheels about it or anything) since I feel like my "useless knowledge trivia" well had been starting to run dry.
Friday, April 18, 2008
Updates
more than you can shake a stick at...
Friday, April 4
(That's right two weeks ago) Logan, being the awesome roommate he is, and sensing I needed something to cheer me up, invited me out to hang out with some of his friends (most of whom I had met or hung out with before) at O'Neill's for a birthday celebration. We saw a really awesome 80's cover band by the name of Long Duk Dong. I had a couple of drinks there. Then a bunch of the gang decided to go to The Dame where they were having a Dance Night. I had a couple more drinks there, and I shook my booty until the wee hours of the morning. I had such a blast and it was just what I needed to blow off some steam. Thanks to Logan, Rebecca, and Rachel for helping me have such an awesome time!
Saturday, April 5
Saturday was sleep in and then go to work day. Crashed hard that night.
Sunday, April 6
More work, then went to William's to hang out and roasted some marshmallows and made smores in his fireplace.
Monday thru Saturday
Pretty much same old, same old - work, class, sleep, and eat. Except I also went to a couple of rehearsals for The Music Man (which I was light designing).
Sunday, April 13
I woke up, did some work on Music Man design, and then went to work. I got off work around 9:30p, and started back to working on Music Man design at about 10:30pm. I worked straight through the night until ...
Monday, April 14
... 7:00am when I took a shower, and printed out my plot to take to the Opera House. Got to the Opera House at 9:00am, and didn't leave until 11:00pm or later. Went home and did some homework (class and design), and got a couple hours sleep.
Tuesday, April 15
Back at the Opera House again at 9:00am until 11:00pm. Had a meeting with Stage Manager, Director, and Assist. Director at Denny's afterwards.
Wednesday, April 16
Got
some
sleep that night, but had class in the morning. Back at the Opera House at 1:00pm to finish up design stuff. Left at ... guess ... that's right, 11:00pm.
Thursday, April 17
Slept most of the day, because I needed to. Went into the Opera House to give the Stage Manager and Master Electrician some final instructions for opening night. Then I headed over to my friend Sam's house to work on a video project he was working on. It was so funny. I can't wait to see the footage he shot!
That's my past two weeks in a slightly larger than normal nutshell. I'll post more details about the Music Man at a later time. That was such a rewarding experience!
Labels: design, fun, geekery, life, random
Wednesday, April 16, 2008
What?
protractors aren't cool...
Watch this video... and weep. Then... point and laugh at how ridiculous Microsoft is.
Monday, April 07, 2008
design refresh
allow me to point out my flaws
Well, I've done it again. A new redesign. If you thought my last design was clean and clutter-free, you almost won't know what to do with yourself this time.
I wanted to get it up and going so I could start using it, but it's far from complete.
Bugs/issues to be fixed/completed -
- individual post pages are broken
- no styles on individual post pages
- blue bar doesn't extend alongside of the posts
- "home" button to be styled better
- navigation at bottom of page
- arrange/style "labels"
- style links to fit better with scheme
- add links n such to sidebar
- "about" page to be added
- "photos" page to be added
- "videos" page to be added
Labels: design, geekery, news, weblog
Monday, March 31, 2008
Music Man Design
Quick Bits
I just got the tech specs from the Opera House. I'm like a kid in a candy store... at Christmas!
>> (256) ETC SourceFour lighting fixtures
>> (288) 2.4kw ETC Sensor Dimmers
>> (1) ETC Obsession 600 console
Wednesday, March 26, 2008
why my friends are awesome...
No babies were delivered during this post...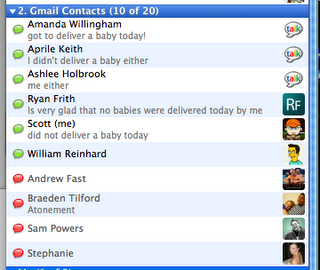 A friend of mine is studying to become a doctor and she's specializing in Pediatrics. She's been doing shifts in the delivery room lately and she finally got to actually deliver a baby! I found this out via her IM status. As an homage, I changed my status. Other of our friends followed suit. It was awesome. Here's the end result...
Labels: fun, geekery, photo, random
Monday, March 24, 2008
Easter Weekend
Big weekend. Little sleep.
Thursday
I know, the weekend usually begins on Friday... but since this weekend was a big deal, I'm including Thursday in so that it doesn't feel left out.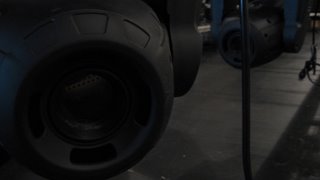 I went into church at 9:00am to work on the light setup a little more for the Easter services. I got them all patched and looking good before I had to go to work that evening.
Friday
Typical day. Worked that night.
Saturday
At church again at 9:00am to put the finishing touches on the lighting setup and then start programming the show. The rest of the production team showed up at about 10:00 and we went to eat lunch at around 11:30. After lunch, I worked furiously to get my cues written on the console. As I mentioned before, we had rented a bunch of gear for this weekend, so the curve was a little steeper than normal. At 5:00, I finally had the show basics written in and we went to the Green Room for a quick meeting and to pray over the weekend.
The services that night went really well. I was able fix a few things that I missed on the fly, and fixed a few other things between services and after the second one.
Went home and crashed hard.
Sunday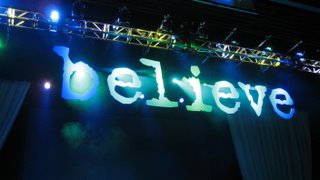 Rolled into Church before the butt-crack of dawn. Fixed a few things in my cues before the first of three services began that day. You could tell everyone was a little groggy due to the early morning. The last two services of the day were probably the best. All the kinks were pounded straight and all the wrinkles had been ironed out. The energy was high and it was ... AMAZING. God did wonderful things in that room.
After the services were over, I went home and crashed. That evening, I went out to eat at Mr. Kabab's for a Schworma Platter (aka, gut-buster with paint-peeling breath).
Labels: design, geekery, life, photo
Tuesday, March 18, 2008
Twitter in Plain English
"scott hopes you join"
Found this via a friend's twitter (and another's blog). I've invited a few people and they seemed to not understand it, and I was very unable to effectively describe it. So sit back and take a gander at this short video.
Labels: geekery, random, video
Friday, March 14, 2008
Happy Pi Day
3.14 is the tastiest number...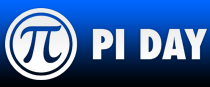 Today is March 14, also written as 3.14.
Excerpt from
Pi Day
website:
Pi is the symbol for the ratio of the circumference of a circle to its diameter. Pi = 3.1415926535... Pi Day is celebrated by math enthusiasts around the world on March 14th.
In celebration, I'm going to have Pie tonight after work.
How are YOU going to celebrate Pi Day?
Monday, September 17, 2007
Illustrator "Fun"
... and by fun, i mean work that is mildly amusing.
This is our third assignment for my Electronic Publishing class. The first two were nothing big, just teaching us to use Adobe Illustrator. This one has us using Illustrator for something potentially useful. We were supposed to either draw something free hand or "trace" an jpg image we already had. I chose to trace a pirate devil duck that Erin's sister, Abby, gave me for christmas last year.
Here's the original.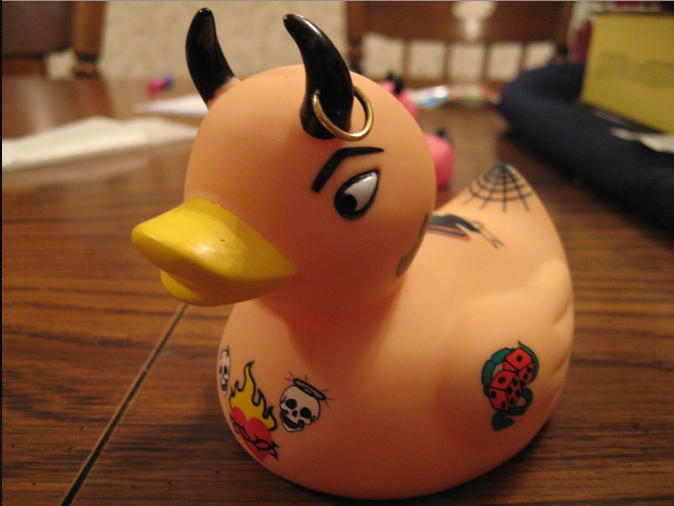 Here's the one I made.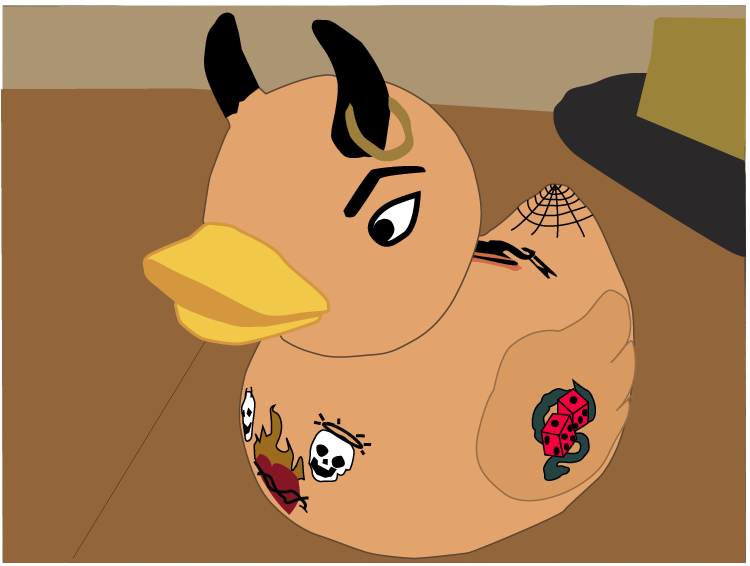 Labels: design, fun, geekery, photo
Wednesday, September 12, 2007
redesign preview!
you saw it here first...
Hey gang, I've been working on a new design for my portfolio website. Check out a couple of these preview shots I decided to post in order to tease you a bit. :)

[view of the header]

[view of the nav bar]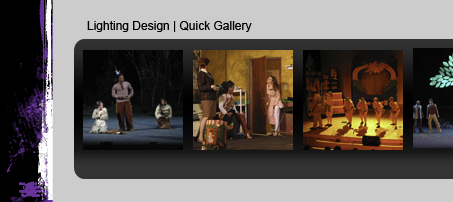 [view of the quick gallery]
Friday, August 24, 2007
Hot off the presses...
get your updates here.
Well, I'm finally back from the summer, but I'm not quite settled, yet. I guess that's what you get when you come back a day late starting for classes, no apartment, and no car. (All will be explained later)
Some good news - upon returning to EKU this semester, I was suprised to find that a few of my projects from the past two semesters classes have won awards at
IGAEA's Gutenberg Awards
. The contest is open to colleges and universities across the nation.
First off, a calendar project that my class did last semester won honorable mention in the print division. I'll try to post a few photos of the calendar later.
Next, a t-shirt I designed and printed in the fall won First Place in the screen printing category.
Lastly, a web design project from last semester won Best In Show for the web publishing category! (
go see it
)
So as far as that goes, I'm pretty excited!
(more updates later)
Monday, May 07, 2007
what i learned in class
fun with iMovieHD and Garageband.
This was the final project due for my TEC355 Web Animation class. Cheesy and fun. Like me. Enjoy!
Labels: fun, geekery, random, video
Friday, March 16, 2007
Days Six thru Eight
good friends and good food
Day 6 | Tuesday
Woke up and right before I left town to visit my friend Ben in Nashville, I got my hari cut. I felt 10 pounds lighter. The trip down was uneventful (which is actually a
good
thing in a car). Ben and his wife (Rebekah) and I went to this awesome Italian place for dinner called Mafiosos Pizza. They have pizza slices bigger than your head! (or the same size as your head if you're Patch) I had this awesome fried macaroni with lots of cheese and jalapeños in it. Amazing. That plus the two ginormous pizza slices left me quite full (and a little uncomfortable).
Day 7 | Wednesday
Got to sleep in. Ben and Rebekah had to work. Luckily Ben only had to work until noon, so after a yummy lunch, Ben and I vegged out, and talked a little geek. We got bored and went over the Rebekah's office to keep her company for a bit then walked down to a coffee shop and talked more geek. That night, Rebekah made a scrumptious dinner consisting of chicken, seasoned potatoes, broccoli and cheese, and cheesy garlic biscuits. Rebekah had a party to go to, so Ben and I watched some CSI (original and NY), and of course - talked geek. Ben also introduced me to
Lux
a RISK-type game for PC. Really fun, and addictive! It's a free download. Check it out.
Day 8 | Thursday
Hung out with Ben and Craig at Bixby's coffee shop. Played around on the internet (yay free WiFi!). Had lunch with Ben and then headed back to the land of EDT.
Labels: fun, geekery, holiday, life, the girl
Tuesday, February 27, 2007
Project Flash
What the heck is a "Tween"?
For more information, check out: Project355:MotionTween
Update:
Sorry, I forgot to mention that I made this. It's a part of my Web Animation class. It's used to demonstrate the ability to do different things. Tell me what you think.
Labels: design, geekery, video
Thursday, February 08, 2007
Inner workings
see my guts
Made this Animated GIF for my TEC 355 class.
Thursday, February 01, 2007
New Podcast
geeks unite!
Go check out the new podcast by Patch and The Colonel. I haven't listened to the whole episode, yet, but so far sounds interesting.
Check out the website at:
www.notsolive.com
Grab the 'cast,
here
.
Labels: geekery, random, weblog
Wednesday, January 31, 2007
Project 335
rockin' the class
Started building my web page for the TEC355 (web animation) class. So far it's WAY better than the 225 site. In 225, we were building the site according to instructions, and we had to show off the ability to do certain things (whether we wanted to or not). This semester, I made the page look how I wanted off the bat. Our first project was drop down CSS menus. I'm pretty proud of mine. So check them out and compare. Let me know what you think...
TEC 255
- last semester
TEC 355
- this semester