Wednesday, March 26, 2008
why my friends are awesome...
No babies were delivered during this post...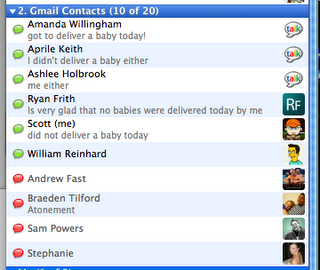 A friend of mine is studying to become a doctor and she's specializing in Pediatrics. She's been doing shifts in the delivery room lately and she finally got to actually deliver a baby! I found this out via her IM status. As an homage, I changed my status. Other of our friends followed suit. It was awesome. Here's the end result...
Labels: fun, geekery, photo, random
posted by: Scott »
8:32 PM
|
0 comments